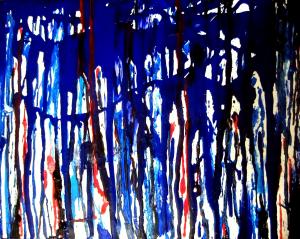 Have you ever felt so consumed by your feelings that you couldn't think or see straight? The emotions permeate every breathe, every beat of your heart and you can actually feel physical pain. Paint and canvas offers you solace, a safe haven to explore without judgment, without fear of betrayal and inefficiency.

I painted Consumed with specific ideas in my head, I felt the need to go there; the solace and inclusion it offered up to me was welcoming so I closed myself in for a bit. I know I am wanted and loved there. I used techniques that also mirrored the emotions I was feeling and that in and of itself had healing qualities. When I felt done, I stepped back to take it in and it brought me to tears. I didn't see it before, I didn't know how to put in words what I was going through, but there it is on that canvas. I was humbled that I knew without knowing and in the expression of art, one of my most favorite ways to spend my time, I found some peace, or at least acceptance of my current reality.

I almost titled the piece, A Self Portrait, but that's not right. It may reflect me now, but I hope it won't in the near future. I don't have the answers I need, but at least I know how to feel, I don't always like how I feel but I like that my heart is beating and I can paint.

Thanks for reading!