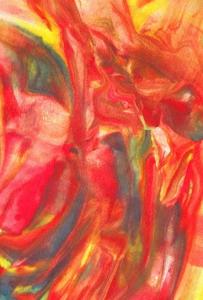 I've been told in the past that I am an extremely tolerant person (not to be confused with pushover). In the same breadth warned that that could be dangerous for those close to me. Everyone has a breaking point, right? I am such a private person and I internalize so much. Sometimes I just need an outlet; a means of release. My emotions can get so immense at times that an outlet is required so that I can truly understand their impact on me. Strong emotional experiences (big or small) inspire me to create artwork and when I am experiencing something that I know will either bury deep inside my soul to fester or something so overwhelming I feel physical pain I get to work.

I create work not expecting to see anything specific, I don't set up for an image; I create work wanting and needing some sort of clarity, a revelation. I try different things all the time with tools, techniques, media, you name it. Sometimes a wonderful, amazing piece is realized that says so much about who I am and allows clarity to really set in. Other times I am so saddenned by the reality of what I've created because it is so honest I am forced to confront it. Once I've completed a piece, I instantly feel vulnerable. The good news is, I am usually the only one who gets it, my secret. When I share my work, I risk others getting it, and it scares the living 'you know what' out of me.

Creating art for me is an outlet for release, it is gratifying, it is a form of therapy. I exert much energy emotionally and physically at times and more often than not it provides me with relief, with perspective. I sometimes look back and say, I am glad I got that out of my system or yes that is exactly how I feel.